Work with the Best Bag Manufacturers the World has to Offer.
It's a great time to be in the handbag business.
The market is growing globally, with experts suggesting the luxury handbag segment will reach $89.9 billion by 2026, up from $58.3 billion in 2018.
Online handbag and luggage sales in Australia and Asia-Pacific are growing strongly (see graph below). There are currently 277 bag retailers in Australia with a local market size of $121 million.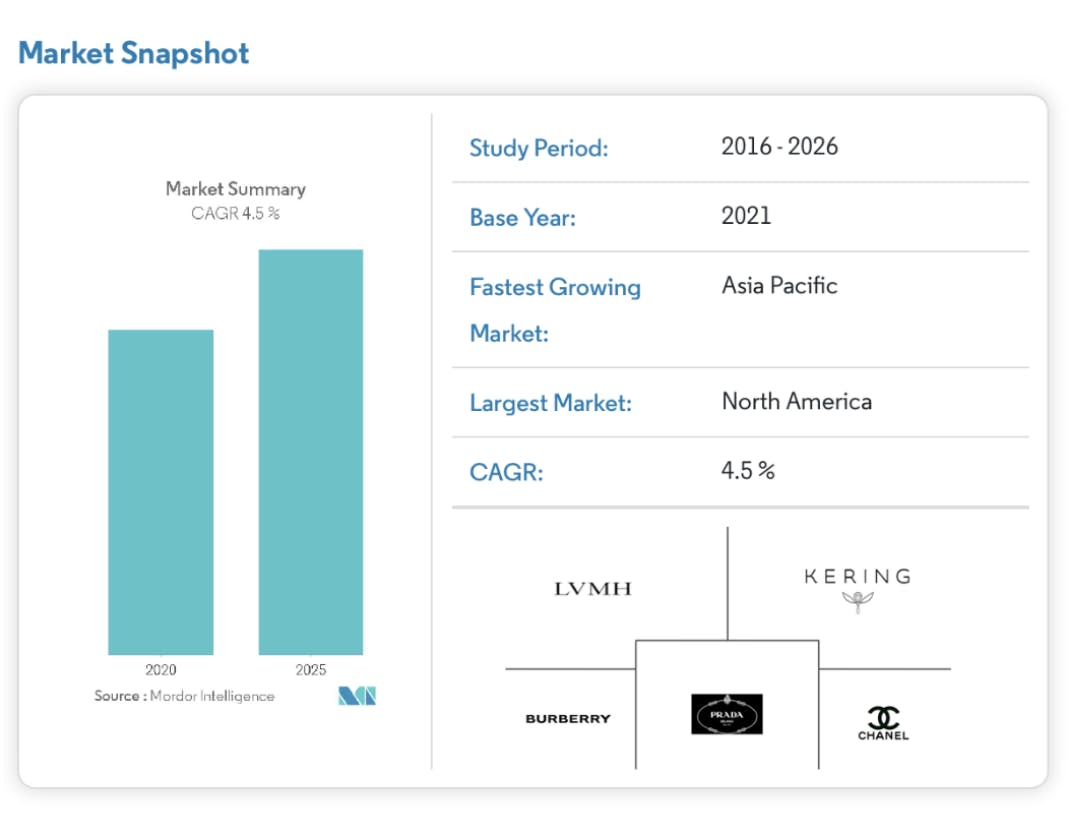 (Source: https://www.mordorintelligence.com/industry-reports/handbags-market)
And while industry operators are responding to rising competition with new, value-added designs, there's still plenty of room to make your mark in the market Down Under.
We work with the world's favourite bags manufacturers, so we know how to help you compete with the big players). Here, we've put together a quick guide to the best and brightest.
Which brands make the world's most popular, top-selling handbags?
Strandbags Group Pty Limited has the largest market share in Australian handbag and luggage sales online. Other major players include regional and global players, including:
Coach
Kate Spade
LVMH
Michael Kors
Ted Baker
Baggit
Hidesign
Fossil
Gucci. 
Having an established distribution network, manufacturing quality, on-trend products, and constantly innovating to match rapidly changing consumer demands in the space are the key to success in the handbag industry.
Where in the world is the best place to manufacture bags?
China is the premier destination for bag manufacturers because all major hubs offer low cost, skilled workers, established transportation networks and end-to-end supply chains already in place.
Here's our guide to the best bag producing regions:
Most of the world's finest luxury handbag brands source their products from Guangzhou, where skilled workers and advanced factories can make manufacturing costs relatively high.
Yiwu is the place for premium leather products. Yiwu International Trade City is massive—600 standard football fields—making every kind of product imaginable. But we recommend you be vigilant about inspections because complex designs can be tricky, and quality is sometimes variable even between the same designs. It's a great place to source canvas bags.
Once China's poorest region, Quanzhou is now giving Guangzhou a run for its money in the manufacturing stakes and, as a result, labour costs are rising. However, it's still a good choice if you're after sports bags, laptop bags or luggage.
Baigou, like Yiwu, has a booming small commodities manufacturing market. It's the third-largest hub for manufacturing in China—in fact, many bag manufacturers are opening new factories in Baigou to counter rising labour costs elsewhere in the country. Prices are reasonable, and it's a great place to source cheaper handbag products. However, factories remain relatively small, and skilled bag workers are still in short supply, so handling huge global orders may be a problem. Watch this space as bag manufacturing companies continue to invest in the area.
Changan is the place to source high quality printed bags made from canvas or woven materials. It's well known for its printing and packaging factories, but there are no leather suppliers nearby, so it's a no go if you want to produce leather handbags.
Ready to make it happen? We can help.
At Sourci, we know navigating the complex world of sourcing and manufacturing partners can be challenging. 
That's why we partner with e-commerce brands to help you procure, secure, produce, launch or deliver the products that delight your customers. 
Our team has the category-specific expertise and broad network of manufacturing partners in the accessory space to make sure your brand succeeds on the world stage. 
With Sourci in your corner, you're connected with the global suppliers, designers, and makers that help your business grow and thrive.
Find your perfect bag manufacturer today. 
Get in touch now.