What's an MOQ and why is it important?
It's really common for first-time importers to be a little shocked when finding out the Minimum Ordering Quantity (MOQs) of their products after making a few inquiries with international manufacturers online.
You will find that just about all categories and industries have reasonably high MOQs that often make it difficult to get into as a small business trying to get a product range launched.
For example products in the promotional, garments/apparel, accessories, electronics, plastics, and packaging categories often have MOQ's in the thousands for each product.
With the help of a sourcing company, these MOQ's can be negotiated down and reduced effectively and very significantly. But as a first-time importer, you really must be prepared to be buying at the very least a high enough quantity to entice the manufacturer to want to work with you.
Launching a new product or brand is super exciting, and we get it, you want to have an incredible range of products for your customers to choose from, of course, this makes sense.
Different colour ranges, sizes, materials, finished, variations etc… Sounds great, doesn't it? The only issue is, almost every time you make one of these changes, the manufacturer sees this as a new product skew, and it falls into the category of needing its own new MOQ.
I know, something as little as changing the colour of your product shouldn't double the quantity the manufacturer wants, but manufacturing is complicated and setting up production runs and customising different colours comes at a higher cost to the manufacturer.
For them to actually make a profit from your order, they need you to order a healthy amount of products. You'll see why as you read below.
How do you find out what your expected MOQ should be?
Unfortunately, there is no product index online displaying the different MOQ's for different industries or products. Even different manufacturers for the same product can have different MOQ's.
That's because there are multiple manufacturers geared to service different sized markets and different customers (note this for later). A manufacturer who is supplying big brands like K-mart, Bunnings & Target would have a much higher MOQ than those smaller manufacturers servicing the small and medium-sized businesses. Definitely look into gaining help from a knowledgeable sourcing company, they'll help you find & connect with those rarer and harder to find manufacturers who offer the smaller MOQ's at the same quality & professionalism that the big stores get.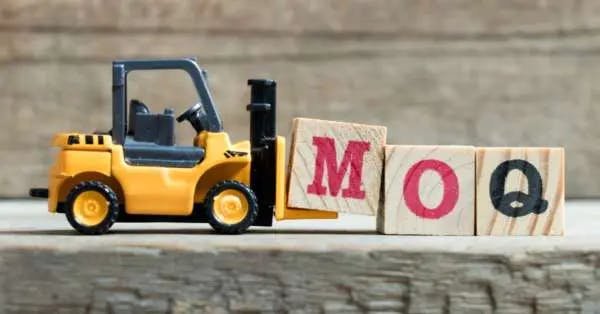 Understanding MOQ' based on the actual manufacturing process
Let's say you're wanting to launch a brand new e-commerce store, selling drink bottle in the shape of animals (crazy I know, but stay with me on this). You take a look online through a marketplace like Alibaba.com to find suppliers (you're not talking to actual manufacturers – read more about that in this Facebook post) who sell standard drinking bottles, after a few weeks of communicating what you're after the manufacturer provides a quote for 10,000 units. You know the manufacturers MOQ for their standard bottles is only 500 pieces, so why is yours only offering you 10,000 units?
It can really any one or a mix of all the 4 reasons listed below.
1. Creating and making "moulds"
In the above example, the manufacturer would require a new tool or "mould" to create the exact new shape of drink bottle that you are after. This mould could either be charged separately as one-off cost or built into the products unit costs. Generally moulds can cost anywhere from $1,000 – $10,000. So for the manufacturer to cover these costs, they would need a larger order which pays it off in one go.
A lot of time can go into actually designing & setting up the new mould, understanding the workings of the mould, helping you to choose the colours of the raw material/plastics that go into it, with you being so specific about the hex colour codes and so on.
So much time & human effort goes into the moulds even before the 1st perfected bottle comes off the production line! Do you think they won't be making several prototypes and ensuring that the shape and lines of the bottle are perfect for you first before hitting GO on mass production?
2. Manufacturing set up costs
Most manufacturing facilities want to be running 12+ hours per day to maximise productivity and ensure they are making as many units as possible per week. To stop a production run, then set up another product and mould can take hours of work to get it up and running and to ensure it's resulting in the right quality & finish of product.
For a manufacturer, this down time is a loss of revenue and they prefer to have their machines running for longer production runs to make up on some of these costs, which leads to a higher ordering volume.
It is a common misconception about just how much time, energy, and resources are required in order to setup a bulk production run. For factories, the biggest efforts are in setting everything up, tailoring the run to your own branding requirements & styles.
Once it is setup, they would much prefer to run the same production line for 10 days rather than 1 day, as the factory & workers are all learning & familiarising themselves with your own unique requirements anyway.
The raw materials costs in making 1 product are usually cheap and less significant than the actual setup. It's all the effort that goes into setting it up & personalising a production run. You might not realise there's normally easily 1 month of the salespersons committed time in helping you even get to paying them the 1st dollar of deposit!
There are costs there and everywhere for them, and so they won't bother doing all of this over a few months for a $3000 order.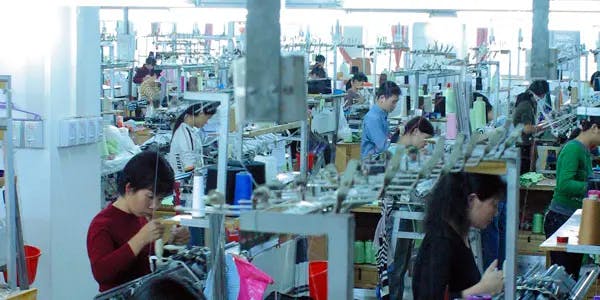 3. Raw Materials Sourcing
The raw materials that are needed for the bulk production of your order cannot be purchased in smaller quantities at a reasonable price.
Do you know that manufacturers need to buy input materials in bulk, obviously so that they can then offer you the best prices… This is because they really want to work with you!
They purchase input plastics by the tonne, not by the sack.
The special matte paint they need for your coating isn't something they have on hand, so they'll need to buy an 1100 litre drum of it. And if they are buying it to use in your production with your specific shade of blue, they need you to use it all up.
If you're looking at making clothing, your supplier normally buys fabrics directly from fabric mills – by the roll – that comes in 1000+ plus meters, so they can't just make you "200 shirts" in 5 colourways, or else they'll constantly have dozens of rolls with only 10% used.
It simply doesn't make sense for manufacturers to buy-in special accessories or materials that are just for you, and not have use them all for you. This is a big part of the MOQ explanation.
4. No relationship built
Most manufacturers aren't interested in just 1 order, so they have to look at you and your business objectively. If you are a start-up with no manufacturing or importing experience, then they believe there is a higher chance you won't reorder, or that it could take months or years before ordering again. They need to then maximise their return on investment in terms of setting up your manufacturing, guiding you through the process, creating custom moulds, and servicing you throughout the lifecycle.
They don't know who you are, or how often you order, so as a hot tip it's best to educate them on your goals and plans.
It also really pays to become friends with the salesperson. Trust us, the salespeople in the factory also don't like telling you about their MOQ and losing the opportunity of the work, if it were up to them they'd sell you 1 fully customised unit at a time!
If you can really take an interest in who they are, form a friendly relationship, ask them and take the time to show them you are interested the basics of the manufacturing process, then there's a chance you might just get a substantial reduction on MOQs for your initial orders.
Heres the best way to get around MOQ'
Select your hero products
If you're bringing out a new range of products, get feedback from friends, family and even different online groups on what products they like the most. From there you can use your own judgement on which style, colour or other feature product will sell the best & that you should start off with.
These are the products you should invest in the most at the start to ensure you meet the manufacturers MOQ. Once they are selling well and you've built a good relationship with the manufacturer, then it could be time to explore and expand the product range.
Also, your customers won't leave your website or store just because you have a limited range of amazing, novel, customised products. You're far better off having a smaller range of unique and beautiful products than a larger range of standard and common products that you bought in small volumes from a cheap "trading company" (that anyone can find on the internet if they look hard enough).
People love something new and something different. Be different… And to start with you don't have to have a product range that caters to every gender, size, desire, age group, ethnicity & so on. Best to master your core target market brilliantly, begin to build a huge brand following, then branch out once you have the capital & the market's awareness.  Do you think brands like KeepCup, FrankGreen, Mimco, Kogan, Nike, BooHoo, The Iconic, or even Mercedes started with all of the ranges that they sell now?
Order by a budget not quantity
If you are completely unsure of what the MOQ and price point of your product will be, then set a budget. This budget is an amount you are comfortable with spending on your first production run, it should include everything from the product, to packaging and freight delivered to your door. Call it a "Landed Budget".
What is our suggestion for a budget?
We recommend that you should always be looking to spend over $10,000 on your first production run, as that's where you get the most value for your money and only then can you attract the better calibre of manufacturers. Once you have your budget it is then easy to work backwards and figure out how many units you can purchase for that budget.
Sourci's wisdom on a budget
When it comes to your brand & your products, it honestly is a sliding scale between quality/price/success & budget. The lower the budget, the lower the combination of those things you will end up with.
We can't be any clearer on this.
If you want the world, but can only spend a few thousand dollars… Somethings gotta give!
There will either be a compromise in quality or functionality, or the manufacturer you end up with is "cheap" for a reason... Causing you endless headaches with your stock (if you ever receive it).
Spending over $10k opens up your ability to speak with those higher calibre factories that work with the bigger brands, and are more professional, organised, and reliable. Ideally, you should be aiming for 20k+, which a lot of our clients are achieving, but as a bare minimum, $10k is your starting point.
Ask yourself, why does dropshipping have such a bad name? Because the factories that are dropshipping aren't good enough at producing quality products – to attract good brands and decent orders. We call them "bottom feeders".
You don't want your manufacturing to be a "race to the bottom". You ideally want to have a high-quality product that your customers rave about, that you can in fact charge a premium for.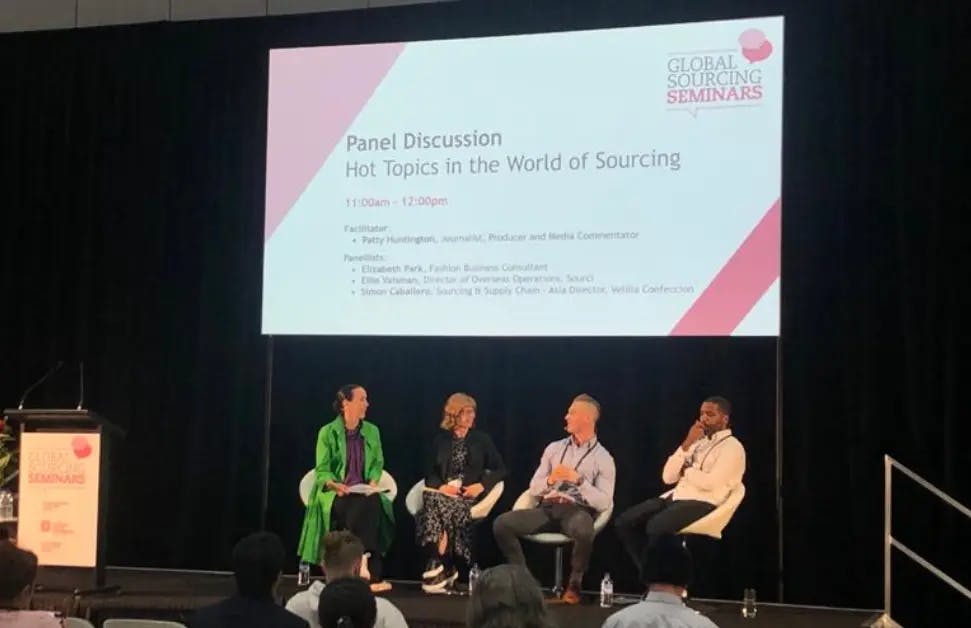 Engage a sourcing company
With the help of an expert team both in Australia and China, or Vietnam or whichever country your product is made in, it will be much easier scouring the entire country for quality, reliable manufacturers who can meet your MOQs. We'll find you, and help you work with, those manufacturers who understand your business & your vision, we'll help you negotiate terms, improve pricing, draft contracts and ensure top quality.
On many occasions, Sourci has helped reduced their client's minimum order quantities and expanded their initial ranges by tactfully negotiating with manufacturers and bringing clients huge value for their investment.
We have a lot of tricks up our sleeve if you like, and by having teams on the ground in each of these countries who are manufacturing experts, we can talk to the factories in their own language and become their friends, all on your behalf. If you are wanting to launch a true brand, you need to start with a quality factory & supply relationship.
Get in touch with us at Sourci any time and we'll do everything we can to help you make this happen.